Carrot cake, lemon cake, chocolate cake.. Gail never arrives at the shop without a cake, her knitting and a smile that lights up the room. She comes from across town in Enfield to sweeten the shop's monthly Late Night Knitty Lock-in, where she's got the closest thing we have to a permanent seat reservation. There's a pleasing pattern to the monthliness of our meetings as she's often wearing the thing which was on her needles the time before. Gail's knitting is not only prolific and beautiful, it's also richly travelled, and full of faraway wool shop stories.
Gail was away during the lockdown.. "I was in beautiful Grenada, and it took nearly 3 months to get back to the UK.
The pink shawl is the Knit and Slide by Stephen West… but not quite. I started with good intentions but made a mistake and put it down and started another project, so it stayed in my project bag for most of a year. I always meant to revisit it.
When I got back I knew I wouldn't finish it so I frogged back a bit, did some garter rows and ended with a picot edge. Now I call it my pseudo Knit and Slide shawl. The yarn is from Stranded dye works. I've known Amy for years as she used to work in Hobbycraft and ran the knit group round the corner from me in Croydon.. years ago now.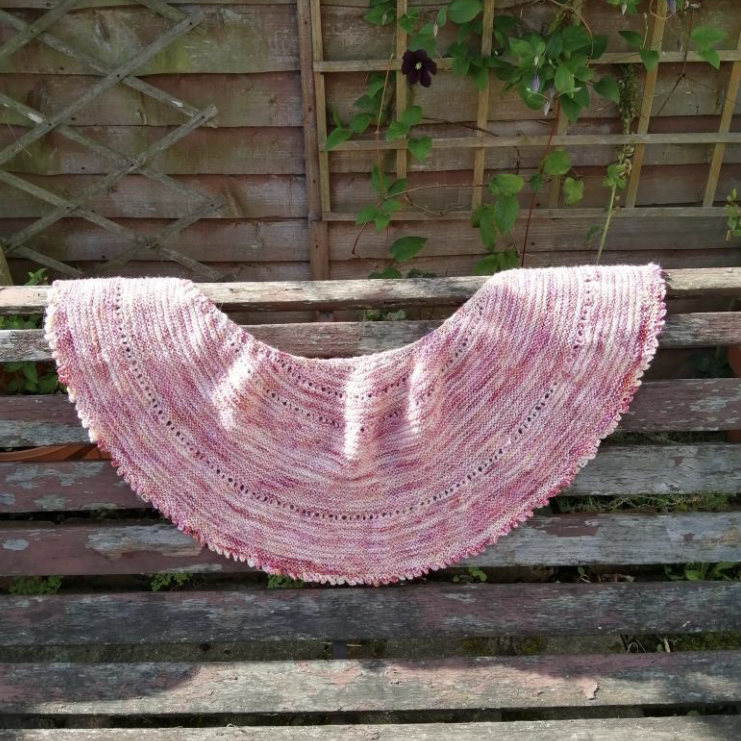 The other project I completed in Grenada are these mismatched socks, or are they really mismatched? Both have the same yarn but in different amounts (I ran out of yarn so used something that was near enough). Like us, they are basically the same but different. We are individuals but we have the same needs. We look different, yet there is a common thread that runs through all of us. We are human beings with different strands that connect us all.
Knitting has been a part of my life for over 50 years. I have taught people to knit, solved their knitting challenges, knitted for my children, family and even made a small living out of it. I love making things and I come from a long line of crafters. Apparently I am very much like my aunt who always carried her crochet with her so making is in my DNA and I honour that. During lock down it was my comfort and meditation, it is always with me even by my bedside..
I miss you Gail. I hope you'll be back soon.