That the shop becomes quieter in the summer months seems almost too obvious to be worth mentioning. We make things to keep us warm, so our's is a winter sport – right? The regular recurrence of this sleepy section that the shop settles into over July and August is something I now take for granted. It's warm outside and therefore quiet inside. Why then, does my knitting always seem to pick up speed in the summer?
I think it's got to do with the way that knitting fits into the time and space available. A slower pace in the shop coupled with actual holiday time means that I have an abundance of both, or at least way more than I ever do in the winter. This doesn't just affect my stitch productivity, it changes my appetite too. I deliberately seek out patterns with complex techniques, textured stitches, and colourwork charts.
I want details that need working out, and a plot that benefits from focus and concentration. The shop floor may be taking a rest but my restless knitting brain wants a work-out. This summer I found it in the Elena sweater by Junko Okamoto, which is ticking my boxes faster than you can say whatever-floats-your-boat. It has stranded colourwork with long repeats, texture and a sweater construction that's nothing short of radical. For my taste this is made-to-measure summer knitting.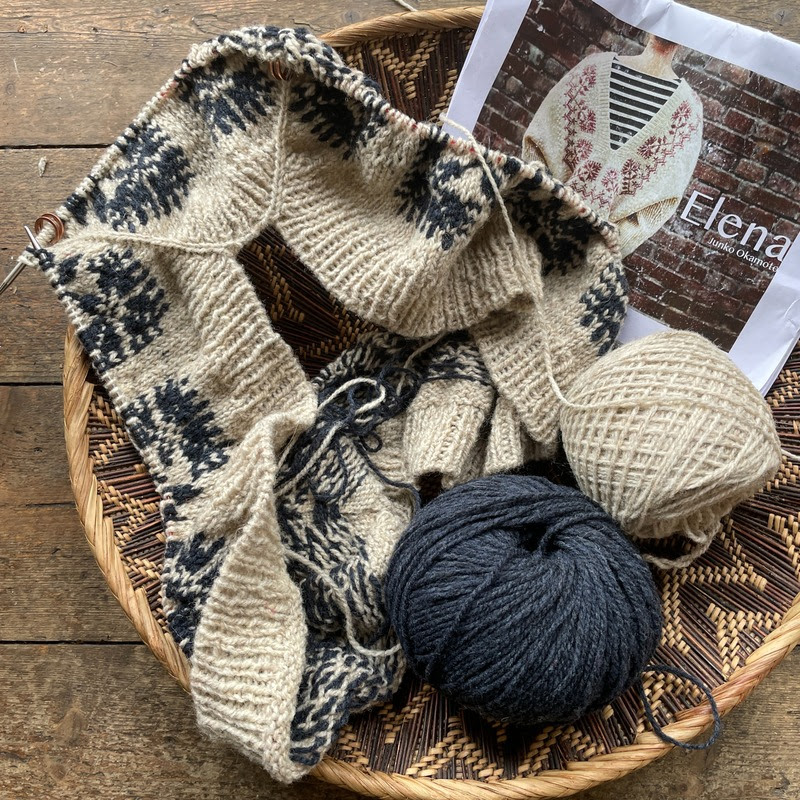 Meanwhile back at the knitting ranch, Vi's been searching for a project that will provide a soothing counterbalance to the endless counting and reiteration of colours of her intricately-patterned Trouville. She has settled on Grainne, a perfectly plain garter stitch sweater from the brilliant Ready Set Raglan book, a pattern that won't ask any irritating new technique questions and will follow the reassuringly familiar path of all previous top-down raglans.
Whilst more than one project at a time leaves me conflicted and confused, Vi's twinning of fancy and plain projects is part of the process – the complementary opposites make each one more doable.
Discovering which knitting is the right knitting for you, for where you're at in your head, your skin and your life, can take a few rounds of getting it wrong before finding out what's right. The road to knitting project nirvana is littered with project bags of unfinished shawls, cardigans and what-not. One thing's for sure, when you find the right one, it's heavenly. And all those wrong ones? There's every chance they will have their time one day. Keep them safe and out of the way of moths. You'll be pleased you did.